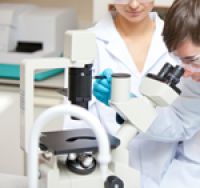 test equipment:
laboratory for analysis of the behavior of the small mammals with a high degree of sound isolation ensuring full isolation from external factors during the test;
breeding colony of bank boles (Myodes glareolus) is entered on the "List of laboratory animals reared in Poland" recommended to biological studies by the Commission of Biology of Experimental Animals at the Faculty of Medical Sciences. Breeding colony is authorized for the maintenance of laboratory animals by the Chief Official Veterinarian in Krakow (No. 1/2012). It is registered under the number 12616203;
kit to perform behavioral tests (Y-maze, vivarium with moving partition);
digital camera to record behavior and monitor for analysis of recordings.
comercial research:
production of products intended to repel rodents;
analysis of efficiency of products intended to repel rodents.
Methods and research techniques:
the methodology of research on bank voles (Myodes glareolus) used to study biocidal products intended to repel rodents.
experience / references / projects:
acceptance of Office for registration of Medicinal Products, Medical Devices and Biocides, PB/RPB/073-01/06 of 18.04.2006;
the analysis of the impact and effectiveness of specimens for repelling rodents at various stages of implementation to production and entry into services and retail sales;
it is possible to carry out the analysis of the active chemical and sound.
variants of cooperation:
contract research, project, consortium
type of services:
analysis, devices for rent, expertises
information / broker of Jagiellonian University

name and surname:
Monika Kural
phone number:
+ 48 12 664 42 00