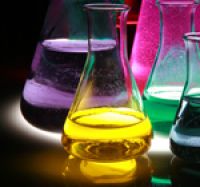 research topics:
synthetic organic chemistry focused on macrocyclic compounds and their complexes with transition metals.
test equipment:
heating table and a polarizing microscope;
spectrophotometer;
fluorescence spectrophotometer.
comercial research:
biomimetic systems (DNA intercalators, models of metalloenzymes, biomimetic catalysts, bioconjugates);
new functional materials (macrocyclic liquid crystals, catalysts, dendrimers containing metal centers);
multiple receptors and supramolecular aggregates containing macrocyclic unit - molecular devices;
optical measurements for thin layers of liquid crystals;
UV-Vis absorption spectra recording;
emission spectra recording.
Methods and research techniques:
differential scanning calorimetry (LINKAM DSC-600);
polarization microscopy;
ultraviolet–visible spectroscopy;
fluorescence spectroscopy.
variants of cooperation:
contract research, project, consortium
type of services:
analysis, devices for rent, expertises
information / broker of Jagiellonian University

phone number:
+ 48 12 664 42 00