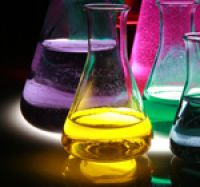 test equipment:
MCT detector of FT-IR spectrometer with a high sensitivity;
chromatographic stand for analysis of catalytic activity;
area and porosity analyzer with equipment ASAP 2020MPR Micropore (Micromeritics);
FT-IR spectrometer to studies of solids Nicolet 6700 (Thermo Scientific);
multifunctional stand for studying the surface of materials ESCA with auxiliary equipment (PREVAC).
comercial research:
elimination of organic contaminants from the gas and the liquid phase in catalytic and sorption processes;
new paths for conversion of organic materials to optimize today's tonnage technologies (eg. oxidative dehydrogenation processes of alkanes ) and receiving highly processed chemicals (eg. aldol condensation reactions);
studying of differently grained solids with strongly and weakly developed surface and their porosity, eg. activated carbons, lampblack, ashes, pigments, ceramic materials, molecular sieves, catalysts, metals, metal powders, soil, rocks, pharmaceutical substances, microfilters, aerogels, membranes, zeolites;
chemical composition analysis.
Methods and research techniques:
IR spectroscopy;
X-ray photoelectron spectroscopy (XPS);
Auger electron spectroscopy (AES);
chromatographic methods;
sorption techniques.
variants of cooperation:
contract research, project, consortium
type of services:
analysis, devices for rent, expertises
information / broker of Jagiellonian University

phone number:
+ 48 12 664 42 00