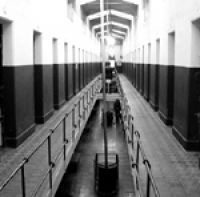 Department of Social Prevention and Rehabilitation Faculty of Philosophy Jagiellonian University
keywords:
rehabilitation, correctional treatment, recidivism, social prevention, urban studies, discrimination, rehabilitation, social exclusion, intercultural conflicts, security, urban area, CCTV
research topics:
reduction of reoffending by correctional treatment – risk management of recidivism;
discrimination and social exclusion;
social prevention networks in local community;
urban studies: participatory research;
intercultural conflicts - the issue of the Roma community and other national and ethnic minorities;
improvement of security in urban area by situational modifications – Closed Circuit Television (CCTV);
theoretical basis of rehabilitation and counseling.
comercial research:
reports and expert opinions on the factors which determine the effectiveness of prevention, correctional treatment and assistance;
creation of the models of effective correctional treatment and assistance;
surveys of CCTV effectiveness;
creation and validation of research instruments for social prevention and correctional treatment practice;
analysis of quantitative and qualitative data and research outcomes elaboration;
lectures, training and workshops addressed to various audiences.
Methods and research techniques:
paradigm of quantitative research: survey research, pedagogical experiment;
paradigm of qualitative research: participating action research, critical discourse analysis, visual ethnography, grounded theory methodology;
meta-analysis.
experience / references / projects:
Certificate of International Organization for Migration (IOM);
Certificate of Summer Program in Quantitative Methods of Social Research – Inter-university Consortium for Political and Social Research, University of Michigan;
Certificate of Statistics in Medicine – meta-analysis;
Honorary Patronage of the Ministry of Justice on the project "Future without bars. Risk management of recidivism based on the results of meta-analysis"(BM-I-0742-105 / 15/2).
variants of cooperation:
contract research, project, consortium
type of services:
analysis, expertises
information / broker of Jagiellonian University

phone number:
+ 48 12 664 42 00