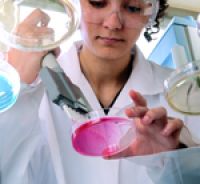 test equipment:
high performance liquid chromatography with instrumentation (HPLC, Waters);
equipment set for preparation of material samples with toxins.
comercial research:
qualitative and quantitative determination of cyanobacterial toxins from samples of biological material;
quantitative determination of hepatotoxic microcystins and nuerotoxic anatoxin-a.
Methods and research techniques:
analytical procedures related to the extraction of toxins from the material, concentration, separation on the HPLC and identification.
experience / references / projects:
perform analysis of toxins for municipal water and sewage enterprise and fish farmers;
research related to the protection reservoirs of water intended for consumption;
analysis of material taken from field conditions.
variants of cooperation:
contract research, project, consortium
type of services:
analysis, devices for rent, expertises
information / broker of Jagiellonian University

phone number:
+ 48 12 664 42 00